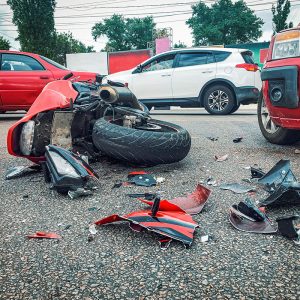 When a biker chooses to ride their motorcycle, they must accept the increased risks that come with operating it. However, drivers owe motorcyclists the same duty of care they do for all other people on the road. They could be held liable for any collision if they act negligently while operating their vehicle. Far too many drivers fail to respect motorcyclists. Distracted drivers don't "notice" you on the roads, and impaired drivers will watch an accident happen without intervening. Reckless drivers act like they have the streets to themselves. Accident reconstruction experts and accident reports often reveal that an accident scene was entirely preventable. Unfortunately, many motorcycle accidents are preventable. But, alas, you are in this position now. A Colorado Springs motorcycle accident lawyer could help if you have experienced an injury due to another's negligence while riding your motorcycle. Once retained, an experienced personal injury attorney could work with you to take stock of your losses and pursue the fair compensation you deserve.
Comparative Negligence in a Motorcycle Accident Case
Drivers have a legal obligation to drive reasonably and responsibly while operating any motor vehicle and obey all traffic laws. A failure to adhere to either of these standards could indicate negligence if it leads to an accident. Unfortunately, it can be quite complicated to prove liability in many cases. Your best chance to recover compensation from the at-fault party is by retaining a Colorado Springs motorcycle accident lawyer.
Proving Liability
To successfully argue a motorcycle wreck claim, an injured biker needs to show that another driver's negligence caused their injuries. However, this can be more difficult if the biker bears some fault for the accident that led to their injuries. Colorado follows a modified comparative negligence system to establish who is responsible for any incident and how the courts should award damages.
Reduced Damages Under Colorado Law
According to state law, if a motorcyclist is found less than 50 percent at fault for their injuries, they can still receive compensation from the defendant. The court may then reduce the plaintiff's recoverable damages in proportion to the percentage that they were deemed responsible for the collision. A Colorado Springs motorcycle accident attorney could review an injured biker's case to determine if they can obtain compensation and how much damages they may be entitled to.
Working to Obtain Fair Compensation
The ultimate goal of motorcycle accident claims is to put the plaintiff in the same position they would have been in had the incident never occurred. As a result, injured riders must evaluate the accident's total impact on their lives to pursue appropriate payments. Most obviously, a motorcyclist should evaluate the physical effects of the accident on them. You have to seek medical attention.
Injuries in Motorcycle Accidents
Typical examples of serious injuries in a motorcycle accident that a motorcycle accident lawyer can assist for your case are:
Severe cuts and scrapes from sliding across the pavement
Broken bones from the point of impact
Separated joints
There truly is no limit to the motorcycle accident injuries you can sustain. Whether your injuries are severe or minor, place your trust in experienced Colorado Springs motorcycle accident attorneys, who will know what to do about your personal injury matters.
The Importance of Seeking Medical Attention
Even if your injuries are minor, see a doctor as soon as possible after an accident. Your medical records, not just receipts for your medical expenses, will be vital in seeking compensation. An accident claim will have to be supported with medical proof. Unfortunately, no matter how banged up you may look, you'll still need a medical professional to state that you are. Additionally, you may have pre-existing conditions that may be material to your claim. An insurance adjuster may disagree that car accidents yield such serious injuries, but medical records and reports could show that you were particularly susceptible to severe injuries. No two motorcycle accident cases are the same. Injured motorcyclists are rarely in a mental or physical head space to go head to head with an insurance company. Leave your matter to a Colorado Springs motorcycle accident lawyer well-versed in personal injury law.
What to Include in Your Motorcycle Accident Claim
Motorcycle accident lawyers in Colorado Springs want you to get maximum compensation. Paying for your medical treatment and future medical bills is just one part of the compensation you should claim for. While the physical damage associated with a crash is undoubtedly significant, it may not encompass all the losses a bike may experience after a collision.
Lost Wages
Many injured bikers also suffer economic harm from lost wages due to an inability to work following the accident. Some jobs simply require that you be present to earn your salary. If you aren't even able to get your job because your main form of transport is no more or you are not in a physical position to ride in other vehicles, you should find out your options for financial compensation. An experienced motorcycle accident attorney will even help you to claim the future wages you would have earned if you were not in the accident.
Proving Liability
Personal injury cases typically include a claim for compensation for injuries that are not just physical. These are some of the potential psychological injuries suffered by injured motorcycle riders:
The psychological injuries sustained due to a collision may also be significant, especially if they result in permanent physical damage. It will be difficult for a layperson to determine how much the responsible party should pay for such an abstract item. Legal assistance will be necessary. Skilled motorcycle accident lawyers in Colorado Springs could help evaluate motorcycle accident victims' losses and make a proper claim for compensation.
A Colorado Springs Motorcycle Accident Lawyer May Be Able to Help
If you suffered injuries after a motorcycle crash, you might have the right to collect payment if your injuries result from another's negligence. The road to compensation, however, can be extremely overwhelming, especially if you are unrepresented. A seasoned Colorado Springs motorcycle accident lawyer at the Springs Law Group law firm could guide you through this process, helping to build your claim. At the same time, you focus on making your recovery. Please call today for a free case evaluation on your case.