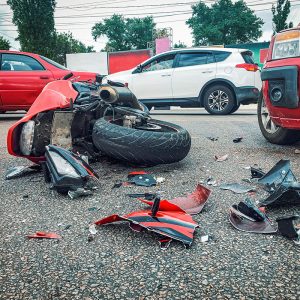 A Colorado Springs motorcycle accident lawyer could help if you have experienced an injury due to another's negligence while riding your motorcycle. Once retained, an experienced personal injury attorney could work with you to take stock of your losses and pursue the fair compensation you deserve.
When a biker chooses to ride their motorcycle, they must accept the increased risks that come with operating it. However, drivers owe motorcyclists the same duty of care that they do for all other people on the road, and if they act negligently while operating their vehicle, they could be held liable for any collision that occurs.
Comparative Negligence in a Motorcycle Accident Case
Drivers have a legal obligation to drive reasonably and responsibly while operating any motor vehicle, as well as obey all traffic laws. A failure to adhere to either of these standards could indicate negligence if it leads to an accident.
To successfully argue a motorcycle wreck claim, an injured biker needs to show that another driver's negligence caused their injuries. However, this can be more difficult if the biker bears some fault themselves for the accident that led to their injuries. Colorado follows a modified comparative negligence system to establish who is responsible for any incident and how the courts should award damages.
According to state law, if a motorcyclist is found less than 50 percent at fault for their injuries, they can still receive compensation from the defendant. The court may then reduce the plaintiff's recoverable damages in proportion to the percentage that they were deemed responsible for the collision. A Colorado Springs motorcycle accident attorney could review an injured biker's case to determine if they are eligible to obtain compensation and how much in damages they may be entitled to.
Working to Obtain Fair Compensation
The ultimate goal of a motorcycle wreck case is to put the plaintiff in the same position they would have been in had the incident never occurred. As a result, injured riders must evaluate the full impact of the accident on their lives to pursue appropriate payments.
Most obviously, a motorcyclist should evaluate the physical effects that the accident had on them. Typical examples of injuries in motorcycle accident that a motorcycle accident lawyer can assist for your case are:
Severe cuts and scrapes from sliding across the pavement
Broken bones from the point of impact
Traumatic brain injuries
Separated joints
While physical damages associated with a crash are certainly significant, they may not encompasses all the losses that a bike may experience after a collision. Many injured bikers also suffer economic harm in the form of lost wages due to an inability to work following the accident.
The emotional trauma associated with a collision also may be significant, especially if it results in permanent physical injury. A motorcycle accident lawyer in Colorado Springs could help evaluate an individual's losses and make a proper claim for compensation.
A Colorado Springs Motorcycle Accident Lawyer May Be Able to Help
If you were injured after being involved in a motorcycle crash, you may have the right to collect payment if your injuries are a result of another's negligence. The road to compensation, however, can be extremely overwhelming, especially if you are unrepresented.
A seasoned Colorado Springs motorcycle accident lawyer at Springs Law Group could guide you through this process, helping to build your claim while you focus on making your recovery. Call today for a consultation on your case.