Colorado Springs Truck Accident Lawyer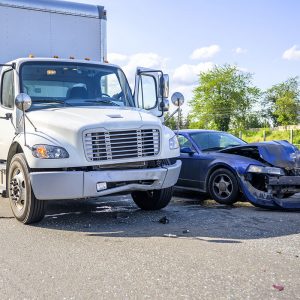 A Colorado Springs truck accident lawyer could help if you are struggling with the legal process after a truck wreck. A personal injury attorney could pursue a claim for damages, collect all relevant evidence, and negotiate with the defense's legal counsel on your behalf.
A collision with a large truck or another type of commercial vehicle rarely ends well for the occupants of smaller cars. Even minor impacts can impart enough force to push another car off the road, or force a vehicle to become trapped under the truck. However, no matter how severe a victim's injuries may be, they may not be able to collect compensation for their losses if they are unable to prove that the trucker's negligence led to the accident.
What are Some Causes of Truck Wrecks?
The sheer size and weight of a commercial vehicle make them more prone to accidents. Their larger size makes them slow to react to an emergency, even if the operator is alert at the time of the incident. Their size also results in large blind spots that limit a driver's ability to see other vehicles around them.
Accidents also may occur as a result of operator error. With many truckers operating on strict deadlines, they may feel pressure to take shortcuts or drive more recklessly to increase profitability. Truckers may drive for longer periods than the legal limits, take roads not approved for large trucks, or use their cellphone while driving to save time once they reach their destination.
Any of these situations may be evidence of truck driver negligence. A Colorado Springs truck accident lawyer could help an injured individual investigate the cause of their accident to build a stronger argument for compensation.
Common Injuries in a Truck Accident
The most common type of injuries sustained by a driver or a passenger in a truck accident is whiplash and all of the tendon injuries, meaning herniated or blown discs, strained or sprained tissues. Because truck accidents involve larger vehicles, they tend to have greater impacts, leading to head injuries, concussions, broken bones, hospitalization, and other severe injuries. Fortunately, a skilled local attorney could help someone pursue compensation for the severe injuries they suffered in a truck accident.
Pursuing Appropriate Compensation
Before a plaintiff files a claim, they must be sure to evaluate their losses accurately. A claim should take into consideration the costs for all past and future medical treatment, as well as any lost wages or emotional trauma that the plaintiff experiences following an accident.
However, this is just one part of obtaining proper compensation. Depending on the circumstances, a plaintiff may also have to defend their actions leading up to the accident to receive fair compensation. According to state law of modified comparative negligence, courts must examine the actions of all parties involved in a truck accident to assign fault for the incident.
If the court believes a plaintiff to be 50 percent or more at fault for their accident, the court cannot award any compensation. A skilled truck wreck lawyer in Colorado Springs could help an injured victim create an argument that allows them to still pursue compensation even if they are partially liable for their injuries.
What are Some Steps an Injured Party Should Take Following a Collision with a Commercial Vehicle?
The first step a person should take is to seek a doctor or go to the ER, depending on the severity of their injuries. The injuries to their body are the most important part of their case. It is important to get started on that treatment and resolve their injuries as soon as possible. The second would be contacting an attorney who could guide them through the process and make sure they get their treatment paid for. A lawyer could also make sure communications with the trucking company are in order, that the claimant does not say anything that they should not say, and deal with any obstacles that occur.
How a Colorado Springs Truck Accident Lawyer Could Help
The aftermath of a truck accident can be a chaotic time. In addition to physical harm, many plaintiffs also endure significant economic losses and emotional trauma.
A Colorado Springs truck accident lawyer may be able to help you pursue compensation if you are experiencing any of these losses after a truck collision. Reach out today for a consultation on your case.