What To Do After A Car Accident?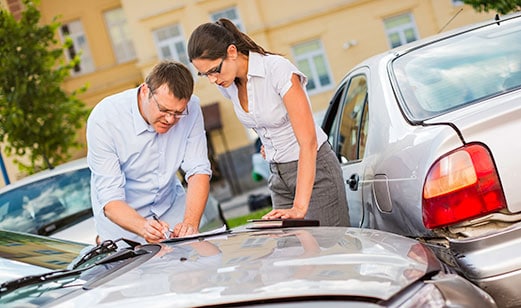 Automobile accidents are unfortunately quite common, but many people involved in accidents are unsure of what they should do. Follow these steps to maximize your safety and to ensure that any insurance claim you may need to make goes smoothly and you get the compensation you need to recover from the accident.
1. Be Safe!
The most important thing you can do after an accident is to make sure that you and the occupants of your vehicle are safe. If you have not suffered serious injuries, and you can safely operate your vehicle, you may choose to move your vehicle out of the lane of traffic or intersection to the shoulder or curb. However, if doing so makes you feel uncomfortable or unsafe, you do not need to move your vehicle unless a law enforcement officer instructs you to do so. Instead, wait until the police or other emergency responders arrive on scene and follow their instructions. If you cannot move your car or decide not to move it, turn on your hazard lights to warn other drivers that your vehicle is not moving.
2. Turn Off Your Vehicle and Set the Brake
Whether you have moved your vehicle to safety or decided not to move it, put the vehicle in park and turn off the engine. Set the parking brake. If you are feeling upset or panicked, take a moment to steady your breathing. Do not get out of your car unless you've determined that it is safe to do so. Concerned drivers or passengers approach your vehicle to check on you. Make sure that you do not do anything to endanger them, like conversing in a traffic lane or intersection. If it is safe to do so, you may consider placing reflective signs or flares to warn away other drivers.
3. Call the Police
Next step is to call 911 or the police. If the weather is poor, your area may have an "accident alert" in effect, which means that law enforcement officers typically will not respond to your accident unless someone was injured or one of the following conditions exist:
Vehicles are disabled due to damage;
The accident involves a fatality or an injury requiring medical attention;
Alcohol or drugs are involved;
The accident is an alleged hit and run;
There is damage to public property other than wildlife (e.g., traffic control devices or signs); or
There is a property damage accident in which the reporting party is not or has no contact with the driver.
If it is safe and you feel comfortable doing so, you may check on the health and safety of others involved in the accident. If you have doubts about whether you should call the police or 911, it is best to err on the side of caution.
Another reason to call the police is so that you have a police officer present to investigate the scene of the accident and document it in a police report. Such reports often contain valuable information, like the location of vehicles, identity of drivers and witnesses, insurance information, and so forth. Insurance companies commonly rely upon police reports in determining fault or liability for the accident.
If the police are on accident alert or cannot make it to the scene of your accident, it is important that you get the other driver's information, including insurance information, drivers license number, and phone number. These days, cell phone cameras can be very handy: take photos of drivers' licenses, insurance cards, and license plates to save time and record information accurately.
If no police investigated your accident, you will need to file an accident report with the jurisdiction where the accident occurred as soon as you can. If your accident occurred in Colorado, you can file a "cold report" online through a service provided by the Colorado State Patrol here. Do not forget to file an accident report and do not rely on other drivers to file one; failing to file a cold report could negatively affect your ability to make a claim for damages and injuries, and you cannot count on other drivers accurately or honestly reporting the facts of your accident.
4. Get the Necessary Information
There are several pieces of information that would be helpful to gather following an accident. Consider writing this information down, taking photos of this information, or dictating this information to yourself using your phone:
The names of drivers and passengers;
License plate numbers;
Insurance cards or insurance information;
Makes and models of all vehicles involved;
If there were witnesses, their names and contact information;
The location of the accident;
The name and badge number of any responding police officers, and their jurisdiction (e.g., city police, sheriff's department, state troopers);
The police report number, which you can get from the responding police officer.
5. Take Pictures or Video
Most people have cell phones with cameras, which allow them to take pictures or video of the scene. These videos and photos can be very helpful during the insurance claims process or litigation. Be sure to get photographs or video of damage to your car and any other vehicles involved in the accident. Of course, remember only to take pictures or video if you can do so without endangering yourself or others.
6. Limit Conversations
Accidents can cause adrenaline rushes, pain, fear, and anger. However, confronting others at the scene never does any good and sometimes causes harm. Try to avoid confronting other drivers about their driving abilities or decisions, or scolding, chewing out, or threatening others. Limit your communications to the necessary details, such as ensuring others' safety and exchanging necessary information. If you think the other driver was at fault, then discuss that conclusion with the responding police officer not the at-fault driver. In fact, depending on how you react, losing your temper at the scene of the accident could even be used against you in court.
7. Notify Your Insurance Company
It is important that you notify your insurance company of an accident in a timely manner. If you delay or fail to cooperate, your insurance company may use that as an excuse not to cover damages arising from the accident. If you feel uncomfortable with the process, you can have a friend or attorney help you deal with the insurance companies.
8. If You've Been Injured, Contact an Experienced Personal Injury Lawyer
If you suffered injuries in the accident, an experienced personal injury lawyer can help you navigate the process of making a claim, getting bills paid through various types of insurance, getting necessary and reasonable treatment, and ensuring that you maximize the compensation you need to recover from the accident.
The experienced attorneys at Springs Law Group can help you with this process. We offer free consultations with accident victims to determine whether they need an attorney and what that attorney can do to help them recover. We offer contingency fee agreements where you do not have to pay a retainer or hourly rate and we only get paid if you get paid.
We hope you never have to deal with the aftermath of an auto accident, but if you do, being both careful and smart after the accident could make your recovery and the claims process much easier.