Can I Get Compensation for Sleep Problems in My Personal Injury Claim?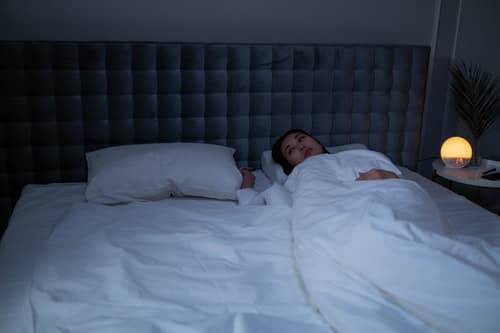 Whew! That was a close one.
You were involved in a very unfortunate accident, but you escaped with your life. Things could have been a lot worse.
You're grateful that you survived that awful accident, but you can't help but have flashbacks to that exact moment. The memories terrorize you daily, and at night they constantly interrupt your sleep. Does this justify a sleep problems personal injury claim?
If you can't sleep and have flashbacks of the disaster, you might be suffering from post-traumatic stress disorder (PTSD). According to studies, most people with PTSD have trouble sleeping or staying asleep.
Or, maybe you suffered a head or spinal injury that has left longstanding effects, and sleeping is simply too painful. How are you supposed to "get plenty of rest," as the doctor told you, if even lying down is difficult?
When the part of the brain that regulates your sleep cycle is destroyed following a collision, it can affect your ability to sleep.
For example, this could be a result of :
A slip and fall accident; or
Negligence of the occupier of a premises.
In each instance, someone is responsible for the loss of sleep you have suffered. You are within your rights to bring a claim against them.
What do I need for my claim?
One of our skilled attorneys will help you develop a strong claim. We can argue that, in addition to being a symptom of a potentially fatal ailment, insomnia has negatively impacted your brain's capacity to function and negatively impacted your mental and physical health in many ways.
Sleep deprivation has been linked to an increased risk of medical problems like stroke, seizures, obesity, and heart disease. When you don't get enough sleep, you can develop depression and anxiety, which can become debilitating. You may even take out your frustrations on the people you care about, thereby impacting your personal relationships.
Is it too late for me to bring this sleep problems personal injury claim?
We hope it's not too late. When did this happen to you? Maybe the accident happened some time ago, but you could still have some time left! In personal injury or negligence claims, time starts to run from the date of the incident.
According to the Colo. Rev. Stat. Sec. 13-80-101, you have three years to bring an action. Don't sit on your rights! Let's have an attorney begin the process of gathering evidence in your favor!
What will my compensation be?
While you may be able to tell immediately how much of your income you've lost due to not being able to work, it's not as easy to put a dollar amount on how much damage to your loss of sleep is worth.
How much you are entitled to is assessed by one of our attorneys looking at the specific circumstances of your case. As of 2020, the Colo. Rev. Stat. states that, in most civil cases, the cap on non-economic damages is $250,000. However, under Colorado law, a person's pain and suffering damages are not capped if he or she suffers a permanent physical handicap due to an accident.
Common sleep problems personal injury claim settlement amounts
In light of what was stated above, it's best to have your attorney advise you on the amount you are likely to be awarded based on your specific circumstances. The severity of the effects of the accident will affect each person very differently.
Can I do this on my own?
This is not a simple claim. A lot of relevant medical evidence will be required to support this claim, likely from both psychological and physical practitioners, so it's best to have an attorney advise you on how to prove your case.
When it comes time to negotiate a personal injury settlement, having your medical provider document your mental suffering and all of your other medical care will help you receive a fair result. Keeping a journal and recording your sleep patterns, your emotional state, and other impacts daily is a great place to start.
But first, do this.
Insomnia or any other sleep disturbance should always be reported to your doctor immediately after a collision. The signs of a traumatic brain or spinal cord injury are not usually visible right after a car accident. They may take some time to manifest and may be mistakenly attributed to other factors.
Then, make an appointment with us. If you live in Colorado, be sure you're in excellent hands with a lawyer from Spring Law Group as you strive to get your life back on track.